PDS expands to
digital marketing
Professional Drone Solutions has been providing construction companies' marketing teams with compelling media for over five years. Our own internal marketing team has been leveraging the media we create to generate content. With our experience marketing our drone solutions and aerial surveying companies, we have learned how to market our brands effectively. 
Realizing the opportunity to further serve our customer base, Professional Drone Solutions has launched a full service marketing brand, The Marketing Construct.
Full Service
Construction Marketing
The Marketing Construct has brought together multi-disciplinary teams that specialize in six areas of digital marketing.
Our teams focus on the following areas for our clients:
Web development and design
Media creation
Content creation
Content deployment
Search engine optimization
Marketing strategy
Our teams work together to ensure our clients' marketing strategy is executed efficiently. Not only is our team efficient, but having a team that is passionate about different verticals of marketing also improves the quality of work.
Why a marketing team
is important for construction companies
According to Responsify, 70% of marketing professionals lack a coherent marketing strategy. Often the cause of this is a team that is stretched thin. A single marketing director or even small team of marketers often lack specialization in one of the core digital marketing areas. This leads to a team that is hyper focused on one area like social media or that may focus on something like blog writing without the technical expertise that helps blog posts rank. 
How the Marketing Construct solves this issue
The Marketing Construct brings together all of the subcontractors, employees, and industry knowledge we have amassed since 2016 when Professional Drone Solutions was founded. Not only do we bring the knowledge from our experience at ProDrones.com and our sister brands, but also the decades of experience in construction and marketing from various members of our team.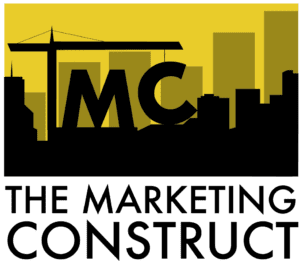 If your company is ready to take the next step in marketing, The Marketing Construct looks forward to serving you. The Marketing Construct brings the quality our clients have come to expect from Professional Drone Solutions to the full service marketing industry. We serve exclusively construction companies, allowing our content and team members to be more familiar with construction concepts. Feel free to reach out to the Marketing Construct below.